Shrewsbury Prison's Famous Team
Since Shrewsbury Prison's closure back in 2013, it is safe to say that we've had our fair share of being in the spotlight. Coronation Street, The Apprentice and Man Like Mobeen are just a few of the many productions filmed at Shrewsbury Prison. But what is it like to host a production at a decommissioned prison? What does it involve and what happens when the cast falls short?
If you didn't know already, Man Like Mobeen, Season 4 was released on Thursday 08th June after being filmed at the prison back in October and November 2022. During that time the crew were taken care of by our dedicated Events & Activities Duty Manager, Officer Stacey Constantine. You're probably wondering what that involves; hear it from to Stacey herself…
"Productions can be long, tiring days, but equally fun and rewarding. Opportunities can arise at any minute; one moment you could be making cups of tea and the next you could find yourself in front of the camera, claiming your moment of fame."
Stacey supported the Production Team from start to finish and described them as being "A fantastic group of people, behaving in a professional manner, and remaining friendly and welcoming throughout their time behind bars." She was also fortunate enough to meet Gus Khan as he explored the set with the Director.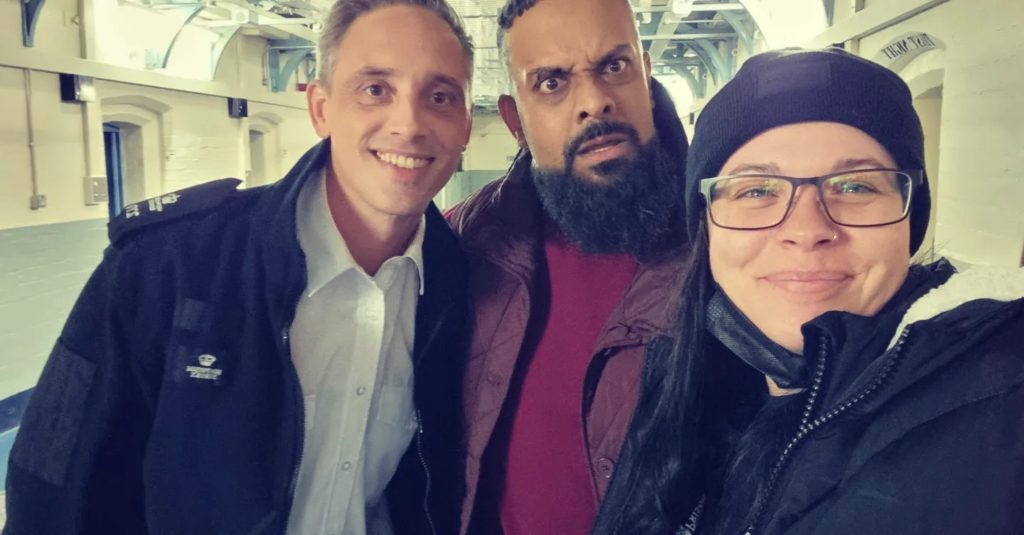 Stacey also supported the team with the day-to-day responsibilities ensuring all supplemental departments like catering, billing, and scheduling had the necessary resources to stay on track, planning routes around the site for Shrewsbury Prison staff to avoid the crew being interrupted, all that and more whilst managing her additional everyday responsibilities – what a hero! Hard work soon paid off when she found herself in the costume van, having her hair styled, make up done and costume fitted.
Stacey explained that "The crew were short on Officers for the production and asked me to fill in, it offered me the opportunity to not only star in a British Comedy Drama, but also to meet and work with the actors on set. I played the role of a corrupt Prison Officer and was gifted presents to recognise the work I had done for the team. This only takes emphasises how friendly the crew were!"
Stacey continued by adding "I feel for me, it's a good sense of achievement as its not everyday you get asked to be on a series, its one of the many reasons why I love working here at Shrewsbury Prison.  When we have a production team in and they need extras there is often the opportunity to get involved, allowing you to get seen on the big screen. I would do it again in a heartbeat."
Man like Mobeen isn't the only production Stacey has been involved in, but that's a story for another day.