The Apprentice Candidates Battle it out Behind Bars
From bolshy boardroom squabbles to eye-rolling dramas, who's next in line to become Lord Alan Sugar's next aspiring business partner of 2023?
The BBC's The Apprentice series 17 returned to our screens in January with 18 fresh candidates all eager to win, and you may have noticed glimpses of what's been happening behind the familiar walls of the world's most interactive prison in the intro of every episode.
So far, the candidates have been challenged with selling and running bespoke tours in the Caribbean Island of Antigua, producing high quality bao buns for clients in Central London, designing a new preschool cartoon, securing a list of 9 items synonymous to the area of Brighton whilst negotiating the lowest price for them, and branding an electric motorbike. But now they face their toughest challenge yet!
Episode 8, will bring the candidates to Shropshire to host immersive events at the two top tourist attractions, selling tickets, booking entertainment and organising food and drink.
We're pleased to finally announce that Shrewsbury Prison unlocked its giant prison gates for filming of this episode back in July 2022. The nail-biting, yet tantalising challenge aired on BBC iPlayer on 23rd February and the remaining candidates were tasked with creating an immersive event within the walls of Shrewsbury Prison.
The challenge saw candidates tasked with selling tickets in Shrewsbury Town Square to members of the public and even trying to line up business customers, all of which would pay for being kept at her majesties pleasure.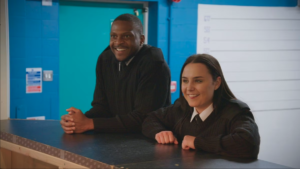 The teams had to negotiate with Prison owner & CEO, Joel Campbell, on the food options they would offer to their customers. Before embarking on an 'rapid' training session with the prison team, where they learnt about delivering immersive experiences within heritage attractions.
Their competition had set up shop at Blists Hill Victorian Town in Ironbridge, another of Shropshire's favourite tourism destinations.
After a fierce battle between the teams it was Afinity that came out on top, beating Apex by a profit margin of £736.50!
Although, in the end it was Blists Hill Victorian Town that claimed victory, Shrewsbury Prison remains the world's most interactive prison, the 6th dark tourism location in the world, the world's second most haunted prison and Shropshire's number 1 tourist attraction.
Learn more about The Apprentice at Shrewsbury Prison.