Shrewsbury Prison Private Visits – June 2022
Over the month of June, we were delighted to welcome a number of private groups, joining us behind the high walls of Shrewsbury Prison.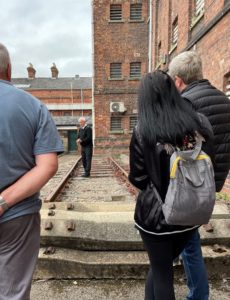 First through the gates with a group of 42 was Uttoxeter and District U3A. Our officers led the tour and explained the cells through the ages and what it would have been like being a Victorian prisoner in comparison to the modern times. They went into forms of punishment, educational programmes and the work prisoners would have done, but what really shocked the group is the lack of toilets or plumbing until 1995! The tour were surprised at how late these improvements came, fascinated by how they were brought about and curious as to how it influenced prisons.
Our next Private group were Dene Valley U3A who arrived with a group of 36. Before embarking on their tour, they fuelled up in our restaurant (which is considerably cheaper than fuelling a car) with some coffee and freshly baked cake. Following refreshments, they embarked on a 90-minute tour.
Officer Mike had high praise from his tour with visitors reporting that his excellent guiding skills, paired with his uncanny humour meant Dene Valley enjoyed the experience immensely and found Mike very entertaining.
Mike, of course, appreciated the praise and it put a warm smile on his face, but he went on to say his favourite part was sharing stories about the time when he was a Senior Officer, here at Shrewsbury Prison.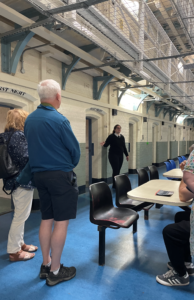 Another group visit during the month, was an exclusive VIP group of 15 who had Officer Liz all to themselves which, if you've met Liz, you'll know is an experience in itself. Her quick wit and sharp tongue had visitors asking, "Are you a stand-up comedian?" All jokes aside, her ability to entertain always makes for an enjoyable yet intellectual tour.
She quickly learned that she was leading a very exciting visitor on her tour, one whose Grandad was a chaplain here at Shrewsbury Prison during the time that executions still took place. The prison chaplain was a great support for those condemned to death as they would have helped the prisoner cope and lent a much-needed ear before their execution.
With so many interesting qualities brought to us through Private Tours, bring on July's!