December's Educational Tours
Amongst the hustle and bustle of December with Christmas arriving quickly, Educational Visits at Shrewsbury Prison were coming to an end for 2022.
From quotes from one school saying, "It was the best school trip they had ever done!" to stories of the shock on students faces when being issued with their standard issue orange prison jumpsuits and sent straight to their cells for an In-Cell Experience, it has been a wonderful end to a fantastic year.
Studying Forensics and Psychology, students from Coventry College had a particular interest in the darker topics of the prison, from the history of public executions and the justice system dating back to the Georgian period. Being able to immerse themselves into a piece of this history is an invaluable experience that these students won't forget in their further studies.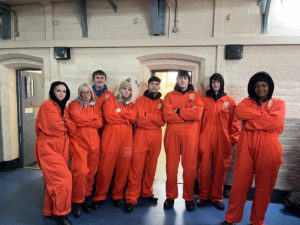 Westgate College, who also spent the day with us had the honour of being named the funniest school this year! Our Tour Guide, Liz made a special comment about having a fantastic day with this particular group of students. Adding our Prisoner Experience and In-Cell Experience activities to their Educational Guided Tour, they were able to absorb everything the prison had to offer, begging for release from their cells and even trying to bargain for their freedom! – It seems they weren't forewarned that our Officers are not bribed so easily… especially those who are Ex-Officers and served at HMP Shrewsbury Prison before it closed its gates as a functioning prison in 2013. All of our Officers are well versed in attempted bargaining and it's safe to say, it hasn't worked up to date!
Opening the door to a new year, we are all looking forward to the visits booked in for 2023. With whispers of something new around the corner for all students who come to visit, it's the perfect time to enquire about what Shrewsbury Prison can offer Primary Schools, Colleges and Universities.