Shrewsbury Prison Announce unique Christmas Party Packages!
Are you looking for the perfect Christmas Party for your colleagues or sports team? Join us at Shrewsbury Prison and treat them to a festive dinner, team building exercises and a day out to remember!
Our corporate Christmas packages are like no other. Whether you are getting a taste of life as a prisoner, taking on our Christmas Quiz or tucking into your delicious festive feast, there is plenty for your team to enjoy!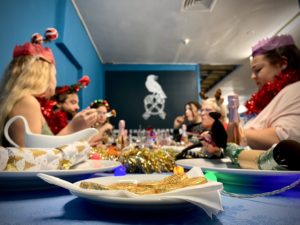 The Best Team Building Activities in Shrewsbury.
Picture this, your team arrive at a real prison that holds over 200 years of history. Together, you're escorted to a holding cell to confess your crimes and collect your jumpsuits. From there make the most of a Guided Tour or  head up to our escape rooms and challenge yourselves to break free before the time runs out, or perhaps choose to brave our spooky Ghost Tours. Find out which ex-inmates are still gliding through our corridors and explore underground to see the original Georgian cells. Whatever you do, you're sure to bring your team closer together.
Once you've completed your chosen activities, it is time to tuck into a Festive Dinner Behind Bars, choose between a buffet or tuck into a 2 course dinner! And finally take on the challenge of our Christmas Quiz! Does your team have what it takes?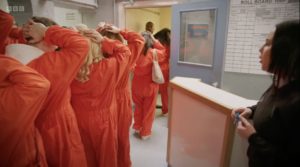 Tailored Christmas Party Packages
Shrewsbury Prison offers the perfect venue for your corporate or team Christmas party. Our team will work with you to design a bespoke party package, entirely tailored to suit the needs and size of your group.
What are you waiting for? Contact us today and treat your work force to a unique Christmas experience they'll never forget.
Telephone us on: 01743 343100 or Email our sales team to create your unique party package !